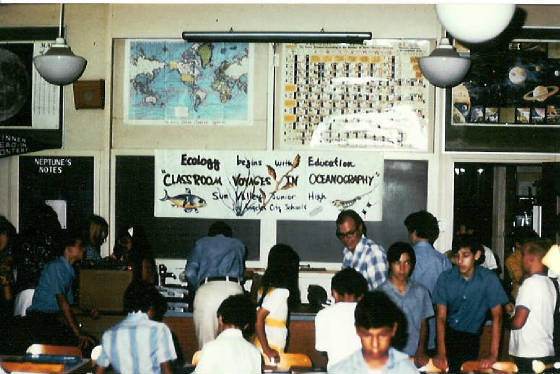 Dr. Byron Jordan is a retired teacher from the Los Angeles Unified School District (30 years). In that time, he developed innovative instructional programs at both middle school and high school levels. He completed two sabbatical tours for
(1) Graduate academic study in the marine sciences at the University of Hawaii, Manoa Campus, and
(2) Self-directed travel study to New Zealand's North and South Islands, Australia's Great Barrier Reef and its islands, and French Polynesia.
Later trips were taken to the Caribbean and the United Kingdom to obtain photograph and video programming. He was the writing author of a California-adopted elementaty textbook, LET'S EXPLORE THE OCEAN (including the Teacher's Guide) in 1968.
Several of his articles have been published in THE SCIENCE TEACHER, (N.S.T.A.) and the CALIFORNIA SCIENCE TEACHER'S JOURNAL. Dr. Jordan served as a field biologist in marine biology for 5 summers on Catalina Island, California, for The Wilderness Foundation.
Dedication and Credits
We have an experienced and dedicated group of teachers and administrators who have adopted Exploring the Sea World as part of their Marine Science, Biology, Chemistry and General Science curricula. Each teacher strives to create a supportive and challenging classroom atmosphere to encourage students to participate. We may introduce a teacher on this page, or have a teacher of the month feature like the one below.
Teacher of the Month
The Author's Marine Science Summer Seminar class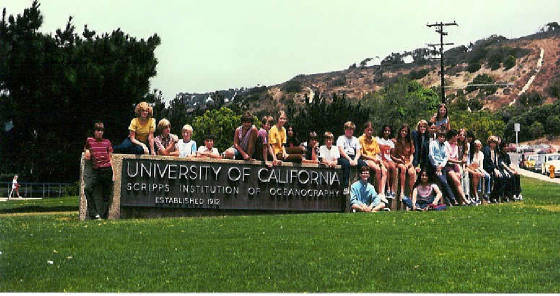 At entrance to Scripps Institute
This section will spotlight teachers who have used Exploring the Sea World as their lab manual... Their background, experiences and anecdotes.